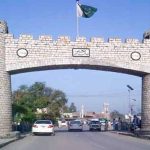 LAHORE: Pakistan Muslim League-Nawaz (PML-N) president Shehbaz Sharif left for London on Wednesday to attend the funeral of Begum Kulsoom Nawaz scheduled to be held tomorrow in Regent Plaza Park.
Shehbaz is travelling to London via Doha on a foreign flight. He accompanied with other members of the family will then return to the country on Friday at 6am along with Kulsoom's body.
The body of former first lady will be flown from Heathrow airport at 10pm PST via PIA flight PK-758.
Nawaz Sharif sons Hassan and Hussain Nawaz won't be in Lahore to attend the funeral prayers owing to legal complications.
A second funeral prayer will be offered after Friday prayer after which Kulsoom will be buried alongside her father-in-law, Mian Sharif, at Jati Umra.
On the other hand, former prime minister Nawaz Sharif, his daughter Maryam Nawaz and son-in-law Capt (retd) Safdar have been released on parole from Adiala Jail and shifted to Jati Umra.
Begum Kulsoom Nawaz, the wife of former prime minister and Pakistan Muslim League-Nawaz (PML-N) supremo Nawaz Sharif, passed away at London's Harley Street Clinic on Tuesday after a prolonged battle with cancer.
The news was confirmed by PML-N president Shehbaz Sharif. Kulsoom Nawaz is survived by her husband and four children, Hassan, Hussain, Maryam and Asma.
"My sister-in-law and wife of Mian Nawaz Sharif, Begum Kulsoom Nawaz is no more. May her soul rest in peace," Shehbaz Sharif said in a twitter announcement.
"Nawaz Sharif had always consulted Kulsoom Nawaz during his tough hours. She (Kulsoom Nawaz) challenged dictatorship courageously," stated Shehbaz while adding at the same time late Kulsoom's affiliation with democracy was proven and time-tested.
Shehbaz added nation will always remember services of Kulsoom Nawaz for democracy.