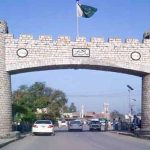 ISLAMABAD: Chief of Awami Muslim League (AML) Sheikh Rasheed Ahmed has announced on Thursday that he will take out a warm-up rally in Rawalpindi on October 28.
Sheikh Rasheed said that the rally will be held outside Lal Haveli and will also be addressed by Pakistan Tehreek-i-Insaf (PTI) chief Imran Khan.
While talking to reporters outside SC, he said that the court has issued notice to Prime Minister Nawaz Sharif and now Saudi will not give him sanctuary but Turkey might do that.
He pronounced that he is not afraid of going to jail as it is like his in-laws.
He asserted that a sit-in will certainly be held in Islamabad and they will shut down the capital.