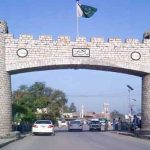 LAHORE: Railways Minister Sheikh Rashid departed for a three-day official visit to Iran on Tuesday.
The railways minister will deliver Prime Minister Imran Khan's message to Iranian President Hassan Rouhani.
Rashid will apprise the Iranian leadership regarding escalating tensions between India and Pakistan and India's recent aggression.
Pakistan has been making contacts with friendly countries and raising the issue of Indian aggression at international forums.
Tensions between Pakistan and India have heightened after New Delhi without any proof blamed Pakistan for harbouring terrorists behind the Pulwama attack. Pakistan's Prime Minister Imran Khan in response called for dialogue and urged India to provide actionable intelligence.