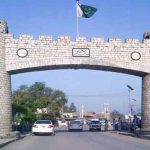 ISLAMABAD: Anti-Terrorism Court (ATC) sentenced Sikandar to 16-year jail and fined him Rs. 110,000 for demonstrating standoff in the middle of Constitution Avenue in Islamabad on August 15, 2013.
The court ruled that the duration of imprisonment would increase for another six months if Sikandar failed to pay the fine.
It also order that Sikandar's wife Kanwal be exonerated from all charges leveled against her.
Sikandar, armed with automatic weapons and accompanied by his wife and two children, had driven into the middle of Constitution Avenue in Islamabad where he fired into the air and started a standoff with the authorities which lasted well into the night.
As negotiations were under way when Pakistan Peoples' Party (PPP) leader Zamrud Khan attempted to wrestle the culprit, following which Sikandar broke free and was shot injured by the police.
A case was registered against him under Section 6 of the Anti-Terrorism Act, 1997 at the Kohsar Police Station in Islamabad.