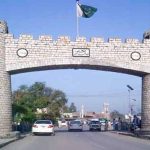 KARACHI: After much frustration over the National Accountability Bureau's (NAB) proceedings against several powerful individuals accused of corruption, the PPP-led provincial government in Sindh on Monday passed a bill to repeal the applicability of the National Accountability Ordinance (NAO) 1999 to the province.
The National Accountability Ordinance 1999 Repeal Bill 2017, introduced by the PPP, aimed to repeal the applicability of the NAO in departments and autonomous bodies controlled by the provincial government.
The bill drew a strong reaction from a well-prepared opposition, resulting in ruckus on the floor of the Sindh Assembly.
Without naming names, Leader of the Opposition Khawaja Izharul Hassan accused the ministers presenting the bill to be wanted by NAB. He added that multiple members of the assembly and ministers from PPP were also wanted by NAB.
PPP members, terming the current law a 'black law', added that they were acting within their constitutional righ to revoke it and give greater powers to the provincial anti-corruption department.
In an attempt to convince them to support the bill, MPAs reminded Muttahida Qaumi Movement Pakistan (MQM-P) leaders, the party Hassan belongs to, that party stalwart Farooq Sattar had also had to suffer the NAB's 'heavy handedness'.
The provincial government will now have to establish a provincial commission on accountability. All corruption cases against provincial lawmakers and officials will be referred to an anti-corruption department overseen by the Sindh government.
Speaking to the media after the session, Hassan said the bill was a violation of Articles 248, 143, 8 and 31 of the Constitution.
"Article 31 clearly states that a law cannot be against Islamic teachings," Hassan said.
If the bill passes, PPP will become judges to their own acts, he said, adding that the responsibility of ensuring that the bill does not come into effect now lies with the Sindh governor.
"We will go to the courts and take to the streets," the opposition leader warned.
"Every time someone talks about corruption in the country, the PPP's name is on the top," he alleged.
The bill was tabled just a few days after NAB announced it would expand the scope of its investigation against alleged corruption and irregularities in different departments of Sindh, particularly in Karachi.