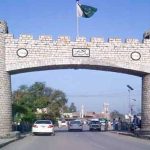 KARACHI: All academic institutions including schools in Sindh will remain closed for winter vacations from December 22 to December 31, the provincial government announced in a notification.
According to a notification issued by Sindh government, the educational institutes will reopen on January 1, 2018 (Monday) after a 10-day break.
The schedule is be followed by both private and government schools' administration.
The vacations have been announced after keeping the prevailing cold and dry weather conditions in the province, wherein the academies do not have heating arrangements to combat frosty weather conditions.
Meanwhile, the Punjab, Balochistan and Khyber Pakhtunkhwa governments are yet to make any formal announcements in this regard.
Meanwhile, Pakistan Meteorological Department (PMD) has forecast cold and dry winter conditions across the country for next 24 hours.
The ongoing cold spell has intensified across the country wherein people have put on warm clothes to fight frosty weather conditions. The Met department has predicted intense cold weather conditions with wintry showers, strong winds, and light snowfall over the hills in Kashmir and Gilgit-Baltistan region during the next 24 hours.