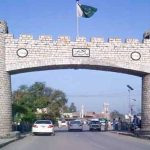 LAHORE: Sirajul Haq, the Vice President of Muttahida Majlis-e-Amal (MMA) – an alliance of religious parties –has rejected the proposal of his own alliance's President Maulana Fazlur Rehman not to take oath as member National Assembly.
MMA comprises several religious parties including mainly Sirajul Haq-led Jamat-e-Islami (JI) and Maulana Fazlur Rehman-led Jamiat Ulema-e-Islam-Fazal (JUI-F).
The decision to this effect was taken during a meeting of JI headed by its Amir Sirajul Haq in Mansoora where the JI Amir said they were not in favor of Maulana Fazlur Rehman stance of boycotting the National Assembly oath taking session. He vowed to play active role of position in the National Assembly.