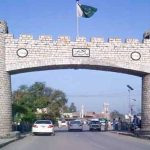 PESHAWAR: Jamat-e-Islmai (JI) chief Sirajul Haq on Sunday claimed that Muttahida Majlis-e-Amal (MMA), an alliance of religious outfits, will form government in Khyber Pakhtunkhwa.
He was talking to media in Peshawar.
Taking a jibe at Pakistan Muslim League Nawaz (PML-N) supreme leader Nawaz Sharif and Pakistan Tehreek-i-Insaf (PTI) chief Imran Khan, JI chief stated that Nawaz Sharif gave statement of aliens in 2018 while Imran Khan gave statements of invisible forces in 2013.
"Statements of both Imran Khan and Nawaz Sharif pose significant threat to ballot box. Such statements have hurt sentiments of the voters. Election Commission of Pakistan should play its role to solve the matter", JI chief stated.
JI chief taunted that resurrection of MMM had inflicted pain on many elements.