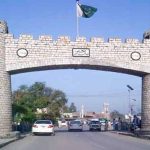 PESHAWAR: Six local workers of a Polish oil and gas company have been released in Wana, South Waziristan Agency.
They were abducted from Frontier Region Dera Ismail Khan in November last year.
Political Agent of the South Waziristan Zafar Islam Khattak said that the workers were recovered with the help of local elders. He said the kidnappers released them as goodwill gesture.
It is relevant to add here that the six Geofizyka Krakow workers were in a convoy at Drazinda, around 80 kilometres from Dera Ismail Khan, when they were kidnapped by unknown armed men on November 26 of last year. The recovered workers currently present at Wana political compound.