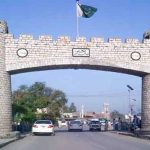 QUETTA: At least six miners who were trapped along with 13 others by Saturday's gas explosion in Quetta have been found dead, officials said.
"Six bodies have been recovered from the coalmine and 13 are still missing," Quetta Commission Javed Anwar Shahwani told media persons.
"Rescue operation is under way by coalmine teams to find the missing as early as possible," he said.
Mining accidents are common in Pakistan. At least 11 workers at mines in different parts of Pakistan have died since the end of March.
Six workers were reportedly killed on the night of 4 and 5 April after an explosion at a coalmine in the Sorab area of Kalat released a poisonous gas, suffocating workers to death.
At least four labourers, including two brothers, were killed while two others injured when explosions triggered a collapse in a coal mine in Jhelum in April this year.