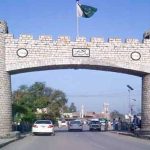 ISLAMABAD: Social activist Gul Bukhari returned home later Tuesday night after she went missing for several hours in Lahore, police said.
Bukhari, who is also a political analyst, was on her way to a TV news station in Lahore where she was due to appear as an analyst on a late night show when she was stopped, her husband Ali Nadir told foreign news agency.
Her family and other social activists also registered a case with the police. However, she returned home soon.
The news of detention of 52-year-old British-Pakistan Gul Bukhari caused a furore on social media.
Maryam Nawaz, daughter of former prime minister Nawaz Sharif, said it was "extremely disturbing" and the "worst kind of oppression".
"I hope better sense prevails and she returns unharmed. This is simply not acceptable," she tweeted.
"Pakistani journalists have seen enough tragedy," the watchdog tweeted.