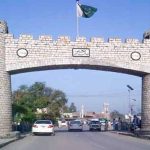 LAHORE: Pakistan Tehreek-e-Insaf (PTI) Chairman Imran Khan has said that Pakistan, which was to become and Islamic welfare state, has lost its vision.
Addressing a ceremony in Lahore on Friday, he said that Quaid-e-Azam Muhammad Ali Jinnah was the biggest leader of Asian sub-continent who struggled for the independence for 47 years.
Khan said that progress of a society is not possible without merit.
Training his guns at Prime Minister Shahid Khaqan Abbasi, Imran Khan recalled that former president Ayub Khan was welcomed at the US airport while the incumbent premier was stripped naked at the airport.
He said that today Pakistan was facing bigger issues, adding that the country's debt had increased from Rs. 6,000 billion to Rs. 27 billion in the last 10 years.
Imran predicted that whoever, would form next government, would have to deal with bigger challenges facing the country.