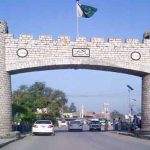 PESHAWAR: The Governor Khyber Pakhtunkhwa, Engineer Iqbal Zafar Jhagra Tuesday said, after having restored the writ of state in FATA; consolidation of security arrangements and carrying forward accelerated development and rehabilitation of the damaged infrastructure facilities are among top priorities of the government.
He was addressing the participants of the 19th National Security Workshop currently in progress at National Defense University, Islamabad who called on him at Governor's House here as part of their
study visit.
The 81-member delegation was led by Maj: General Muhammad Samrez Salik. The Principal Secretary to Governor, Sikandar Qayyum and Secretary FATA Abdul Latif was also present on the occasion.
The Governor while responding various points said that implementation process on reforms as per aspirations of the respective tribal people is also progressing well. "The Federal Government is doing its best for ensuring resource mobilization for materializing the developmental projects in FATA," he said.
To ensuring well-being of the people on sustainable basis, he added, socio-economic uplift oriented initiatives especially are also underway to promoting health and education related facilities.
In this connection, the Governor also mentioned establishment of a sports complex and a hospital of international standards in South Waziristan as well as a number of educational institutions especially the FATA University and said, "Our aim is to make all the civic amenities available to the people of FATA at their door steps."
Earlier, the delegates were briefed in detail about the prevailing situation both from maintenance of law and order and implementation on rehabilitation and developmental projects in FATA. Later on Maj General Muhammad Samrez Salik while talking on behalf of the delegate thanked the Governor.