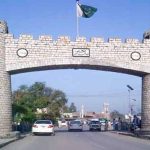 PESHAWAR: A security forces personnel was martyred and another injured on Sunday when miscreants in Afghanistan opened cross-border fire at a checkpost located in Kurram near the Pak-Afghan border, local news agency reported.
The incident of cross-border firing originating from Afghanistan's Khost province, which took place early on Saturday at around 6:45am, was targeting a picketing party of the Khataka Post some 3 kilometres south east of Bezo Sar, the local news agency reported.
Lance Naik Rehmanullah of the Frontier Corps was martyred during the attack, the news agency reported, adding that the wounded security forces personnel had been shifted to a nearby hospital for medical treatment.
After the attack, security forces personnel in the area issued retaliatory fire.