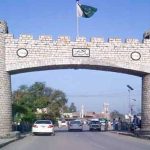 ISLAMABAD: Pakistan and Sri Lanka have agreed to diversify and deepen bilateral relations.
The consensus was reached at one-on-one meeting between Prime Minister Shahid Khaqan Abbasi and Sri Lankan President Maithripala Sirisena in Islamabad.
Later, they also held delegation level talks in which issues of mutual importance were discussed.
Both sides expressed the hope that bilateral ties will continue to grow in future.
The Sri Lankan President extended support for holding of SAARC Summit in Pakistan.
Both the countries also signed three MoUs to enhance cooperation in the fields of youth development and training of civil and diplomatic personnel.
The Sri Lankan President also presented corneas to the Prime Minister for treatment of visually impaired persons in Pakistan.