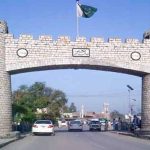 KARACHI: Inspector General Police (IGP) Sindh AD Khawaja has removed Senior Superintendent Police (SSP) Malir Rao Anwar and SSP Investigation Malik Altaf from their posts in Naqeebullah Mehsud's extrajudicial killing.
According to media reports, the inquiry committee – formed to investigate the police encounter in the jurisdiction of Shah Latif police station, in which a 27-year old youth from South Waziristan Agency named Naqeebullah Mehsud was gunned down – has submitted its report to IGP AD Khawaja.
The three-member inquiry committee advised the provincial police chief to suspend, arrest Rao Anwar and place his name on the Exit Control List (ECL).
The committee in its report sent to the IGP has declared the slain Naqeebullah Mehsud as innocent.
Meanwhile, SSP City Adeel Chandio replaced Rao Anwar while SSP Sheraz Nazeer has been appointed as SSP City.
Naqeebullah Mehsud was killed in an alleged police encounter in the jurisdiction of Shah Latif police station and SSP Malir Rao Anwar had claimed that Mehsud was a terrorist adding that he was wanted by the police in terror and other criminal incidents.
The extrajudicial killing of Mehsud sparked outrage on the social media and protests in Karachi after which Pakistan People's Party Chairman Bilawal Bhutto Zardari directed Home Minister Sindh Sohail Anwar Siyal to probe the incident.
Following Bilawal directions, Sohail Anwar Siyal constituted the three-member inquiry committee which recently submitted its report to the provincial police chief.
It merits mentioning that Chief Justice of Pakistan (CJP) Justice Mian Saqib Nisar has also taken a suo motu notice of the incident.