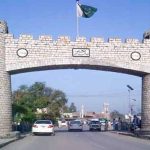 KARACHI: Sachal police station Tuesday registered an FIR against SSP Malir Rao Anwar in Naqeebullah Mehsud's extra-judicial killing case.
The FIR was registered on the application of the father of Naqeeubullah. Kidnapping, conspiracy and murder clauses were included in the FIR. The police also included 7ATA in the FIR.
According to FIR, Naqeebullah was kidnapped on January 3.