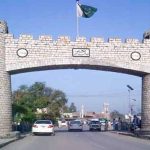 PESHAWAR: The Apex Committee of Khyber Pakhtunkhwa has strongly condemned the violent incidents that took place on May 9, stating that such events are never acceptable, and strict punishment will be given to those involved in violent acts.
During the meeting, chaired by caretaker chief minister Azam Khan, decided to impose ban on on protest demonstrations at Assembly Chowk in Peshawar. The meeting directed the relevant authorities designate an alternative location for protest demonstrations.
The meeting was attended by the concerned Minister of Information, Corps Commander Peshawar, Chief Secretary, Inspector General of Police, and senior civil and military officials.
The caretaker chief minister said that actions are being taken against individuals involved in vandalism and violence during the protests, and the government will ensure the maintenance of law and order.
The meeting was informed that identification of individuals involved in arson, violence, and vandalism during the protests has been completed.
In the meeting, it was decided to allocate Rs 303 million for the purchase of modern equipment for the Anti-Riots Squad in the first phase, Rs 601 million in the second phase, and Rs 1.2 billion in the third phase.
The meeting also decided to prepare a Rapid Response Contingency Plan to prevent such incidents in the future, allocate a specialized unit of the Elite Police equipped with modern equipment for the security of red zones and identify and secure important government buildings and installations outside the red zones. The meeting also decided to establish joint control rooms at the provincial and divisional levels to address and manage unpleasant incidents.
Meanwhile, officials sources said that the cases of 16 individuals involved in attacks on military installations and desecration of national heroes' monuments in Khyber Pakhtunkhwa will be tried in military courts.
According to officials, six accused from Mardan, including Shahzeb, Rahmatullah, Adnan, Shakeerullah, Syed Alam, and Yasir Nawaz will face trials in military courts.
Officials state that the request for transferring the cases of male suspects to military courts for combating terrorism has been accepted by the anti-terrorism courts.
According to government officials, 10 arrested suspects from Malakand, Dera, and Bannu will also have their cases heard in military courts. Four suspects were arrested from Malakand, three from Dera, and three from Bannu.