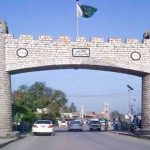 A strong earthquake was felt in northern parts of Pakistan including Khyber Pakhtunkhwa, Islamabad and northern parts of Punjab.
There was no immediate report of any loss of lives or property.
There was no immediate confirmation of the strength or location of the earthquake on either the Pakistan Meteorological Department or the United States Geological Survey.