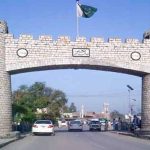 BANNU: Jamiat Ulema-i-Islam-Fazl (JUI-F) chief Maulana Fazlur Rehman on Tuesday said we are struggling for supremacy of constitution and democracy but government has no ideology.
Addresing the workers in Bannu, he said government's only task is to abuse opponents. He said rigged government is not acceptable at all.
Fazl strongly criticised the Pakistan Tehreek-i-Insaf (PTI) government and said that the rulers were either incapable or they were working under an agenda of destroying the country through crippling its economy.
"Your roots have been cut, you have been shaken, now count your days," he warned the prime minister.
Rehman alleged that the PTI took funds from abroad. The founding members of the party had lodged a case in this regard against the leadership but for the last five years, the case has been pending, he added.
He said that the PTI submitted around 60 pleas against hearing of the case. "You are the one who took money from Israel and India," he accused the prime minister, while referring to the foreign funding case.
He said nation wants re elections in the country. He said Rehbar Committee of opposition would devise future strategy in today's meeting.