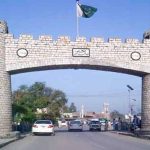 KARACHI: A student of A level was killed for resisting a robbery attempt in Gulistan-e-Johar area here in Karachi on Wednesday night.
Meanwhile, police have arrested four suspects in separate incidents in the metropolitan city, said the local police.
The suspects were arrested in operations carried out in Orangi Town, Mominabad, and Frontier Colony, Abid Ali noted.
The police added that the suspected included dacoits, street criminals and drug-sellers.
Weapons, drugs and mobile phones were seized from the arrested suspects, the police added.