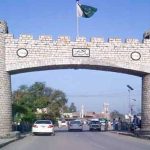 QUETTA: A poor but brave night watchman, who single-handedly forced a frustrated suicide bomber to detonate himself prematurely, saved maybe dozens or more lives by laying down his own life on the eve of Eid-ul-Fitr, a major Muslim festival.
"Quetta escaped devastating terrorism bid as a suicide bomber, who was likely on his way to Hazara Town, detonated his explosive belt after he was challenged by a local watchman near Sardar Bahadur Khan Women's University," said SSP Abdul Waheed.
The bomber, who was dressed as a woman, was in his early twenties, sources quoted a police official as saying.
"We suspect the attacker wanted to target the members of ethnic Hazara Shiite Muslims in a nearby neighbourhood."Akbar Durrani, another official said.
Emergency responders and security forces have made it to the blast site.
Quetta is the capital of Baluchistan province, home to a long-running nationalist insurgency aimed at seeking greater control over the province's rich oil, gas and mineral resources.
No group has yet claimed responsibility for the attacks.
Rebels began their fifth insurgency against the state in 2004, with hundreds of soldiers and militants killed in the fighting.
The desperately poor province is also riven by sectarian strife and Islamist violence in its northern Pashtun belt, with middle-class Baluch increasingly viewing independence as their only hope for a more liberal and secular state.