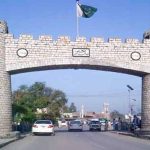 MARDAN: A suicide bomber on Friday blew himself up in an open field near to masjid in Mardan district of Khyber Pakhtunkhwa on Friday.
The attacker, who was later identified as Muhmmad Ayub, resident of Bajaur, donated a hand grenade before exploding his suicide vest, which killed him on the spot, said police.
However, no one lease was hurt in the attack.
Soon afterwards, a heavy police contingent reached site of the incident and collected evidence.
The incident spread panic in the area while search operation was underway till the filing of this report.
Talking to media, DIG Mardan said that the attacker was identified as 17-year-old Muhammad Ayub, resident of Bajaur. His body has taken into police possession.
He further said that only after investigation it would become clear as to what was the intended target of the bomber.