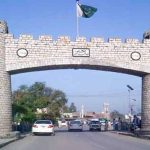 JALALABAD: A suicide bomber blew himself up in the Afghan city of Jalalabad on Tuesday, killing at least 10 people, government officials said.
Inamullah Miakhel, spokesperson for the provincial health department in the eastern city, confirmed the death of 10 people and said four wounded people were taken to hospital.
The attacker detonated his explosives near a fuel station, causing a big fire, officials said.