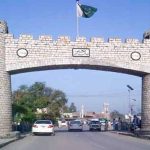 KARACHI: Vice Chairman of the Fishermen's Cooperative Society (FCS), Sultan Qamar Siddiqui made some startling revelations during interrogation on Saturday.
Investigators have unearthed Rs. 700,000,000 worth of assets belonging to Sultan Siddiqui which include a mansion, an arms dealership and two car showrooms.
The FCS Vice Chairman has also confessed to his connections with the Lyari gangs and has confessed to sending millions abroad through illegal channels and funding banned organizations.
Siddiqui revealed to investigators how he would divide the extortion amounts that were collected. Ten percent of the amount would be given to a outlawed nationalist group, 10% would go the Lyari gang members.
Siddiqui claims that he would keep 10% of the amount collected to the Fisherman Cooperative Society. Siddiqui has also confessed taking fixed amounts from industrialists in Karachi.