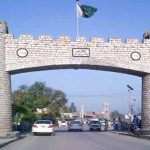 KARACHI: The family of a man, killed by the team of the then Senior Superintendent of Police (SSP) Malir Rao Anwar for being allegedly involved in an attempted suicide attack at his convoy, has claimed that he was innocent.
Anwar on January 16 had claimed to have escaped a suspected suicide attack on his vehicle in Karachi.
Anwar had said that he remained unhurt in the attack in the city's Malir Cantonment area on Tuesday evening. He said the explosion took place when an attacker hit an armoured personnel carrier (APC), travelling ahead of his convoy, and blew himself.
The police then fired upon the attackers, killing two of them while a few other suspects fled the scene, Anwar said.
The family of Gul Saeed, one of the killed suspects, now claims that the 34-year-old was a driver and not a terrorist.
A resident of Orangi Town, Shoaib Khan said his brother had gone missing few months back but that they initially thought he had driven somewhere far as part of his job. When he did not return, the family initiated search for him and filed a report with the police.
The family later on knowing about Saeed's death went to the morgue where the body was kept. The morgue authorities declined to hand over the body without a permission letter from the police.
The police refused to provide the letter and instead asked the family to bring a CNIC copy, and said to carry out a DNA test of Saeed and family,
Only after the family resorted to protesting did the police give a permission letter and the body was handed over to them.
Talking to media, Shoaib decried the brutal killing of his brother and said action should be taken against Anwar.
Saeed was a father of two, while his two brothers are school teachers.
Meanwhile, the other two suspects killed by Anwar are yet to be identified.
The case has emerged amid a torrent of allegations of extrajudicial killings against Anwar, who was suspended after being accused of killing an innocent man.
Following claims of innocence from Naqeebullah's family, an inquiry committee was formed, after which Anwar and the raiding police party officials went into hiding. An FIR was registered against Anwar's team owing to their no-show before the committee and alleged involvement in the case.