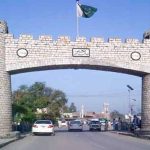 SWABI: Pakistan Zindabad Movement (PZM) on Sunday arranged a public gathering and expressed solidarity with Pakistan Army.
Addressing the public gathering here PZM district Nowshera President Aqlim Khattak, Major Retired Fazal Akram, Rehana Noor, Ibrahim Shah and others said that Pakistan Army played a vital role for the maintenance of peace in the region.
The people attending the gathering carried placards inscribed with slogan in favour of Pakistan Army.
Speaking on the occasion, the speakers said that they will stand side-by-side Pakistan Army. They said that they would not let anyone defame Pakistan and Pakistan Army.
They said that the Pakistan Army had rendered matchless sacrifices in the war against terror and for establishing peace in
the area.
The speakers said that 18 foreign intelligence agencies were making conspiracies against Pakistan but "we will not let them succeed in their black schemes against the country." They said that Pakistan would become super power by 2030 therefore the foreign intelligence agencies were trying to weaken the country.
The speakers strongly criticized the young leader of Pakhtun Tahaffuz Movement (PTM) Manzoor Pashteen, who was following the western agenda to weaken Pakistan. They said that the people were united to fail their conspiracies.
It was the responsibility of every citizen to sacrifice their lives for the sake of country and play role against those who worked on foreign agenda, they added.