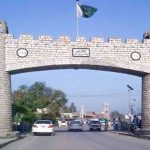 LAHORE: Tableeghi Jamaat Ameer Haji Abdul Wahab passed away in Lahore on Sunday at the age of 95 after a prolonged battle with dengue. The cleric's funeral prayer was offered at Raiwind Ijtema Haveli after Maghrib prayer after which he was laid to rest in a graveyard adjacent to the Tableeghi Jamaat center in Raiwind.
Maulana Nazarur Rehman led the funeral prayer, which was attended by a large number of devotees, clerics, members of the Tableeghi Jamaat council and people belonging to all walks of life.
Haji Abdul Wahab had been admitted to Doctors' Hospital for the past few days after being afflicted with dengue. He also suffered from asthma and was put on life support yesterday, according to a close aide of his belonging to the Tableeghi Jamaat.
Prime Minister Imran Khan expressed grief and sorrow over Haji Wahab's demise. He offered his condolences to the bereaved family and said Haji Wahab's services as a religious scholar will always be remembered.
Federal Minister for Religious Affairs and Interfaith Harmony Noorul Haq Qadri expressed deep sorrow over Haji Wahab's demise.
"Haji Abdul Wahab's contribution to religious affairs will always be remembered," he said.
Information Minister Fawad Chaudhry also expressed his sorrow over the Tableeghi Jamaat amir's death, according to Radio Pakistan.
He said Haji Abdul Wahab rendered innumerable services towards the preaching and spread of Islam's message. He recalled that the TJ leader always based his preaching on Islam's message of peace, and had proved through his conduct that sentiments of peace and love can bring lasting changes in the mindset and character of a person.
Chief Justice of Pakistan Mian Saqib Nisar also extended heartfelt condolences towards the grieving family.
Various PML-N leaders, including Nawaz Sharif, Shahbaz Sharif, Hamza Shahbaz, Amir Muqam and Marriyum Aurangzeb offered their condolences to the family of the deceased and acknowledged the amir's contributions to religious affairs.
Jamaat-i-Islami Emir Sirajul Haq said that Haji Wahab spent his entire life in the service of Islam.
"His services in trying to spread Islam are irreplaceable," the JI chief added.