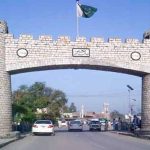 LAHORE: Pakistan Awami Tehreek (PAT) Chief Dr Tahirul Qadri on Tuesday demanded conviction of Chief Minister Shahbaz Sharif in Lahore's Model Town case.
Addressing a public gathering at Nasir Bagh in Lahore, Tahirul Qadri said Lahore High Court (LHC) judge Justice Syed Mazahar Ali Akbar Naqvi's report held Punjab government responsible for killing as many as 14 PAT workers in Lahore's Model Town area on June 17, 2014.
Qadri said that Nawaz Sharif lied at every forum including apex Supreme Court (SC) and deceived the nation by hiding evidence in Panama Leaks case.
He also alleged ex-prime minister of producing forged documents and Qatari letter and said that SC can imprison a person for seven years for this crime. An ousted person enquires about his fault, said Qadri.
He further asked that against whom Pakistam Muslim League-Nawaz (PML-N) is protesting on Wednesday, adding democracy is the name of Sharif Empire in Pakistan.
Qadri claimed that Nawaz Sharif attacked the top court in 1990s.
He said that verdict of Panamagate came against his expectations. He also demanded to convict Chief Minister of Punjab (CM) Shehbaz Sharif in Model Town case.
Tahirul Qadri thanked Pakistan Tehreek-e-Insaf (PTI), Awami Muslim League (AML), Sunni Ittehad Council and Pakistan Msulim League-Quaid (PML-Q) for showing solidarity with the victims of Model Town tragedy.