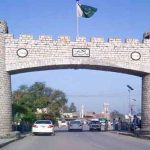 HERAT, Afghanistan: At least 11 Afghan soldiers were killed in a Taliban ambush in western Afghanistan, officials said Monday, as security forces face their first fighting season without NATO combat support.
"The Taliban ambushed a convoy of soldiers in Karukh district of Herat, killing 11 Afghan army soldiers last evening. The soldiers were riding in pickup trucks," Ehsanullah Hayat, spokesman for the governor of the western province of Herat said.
Over a dozen Afghan National Army soldiers lost lives or sustained injuries in a Taliban attack in western Herat province.
An official who did not want to be named said that a convoy of the military came under Taliban attack in Masjid-i-Chobi area of Kurkh District late yesterday.
He said 11 soldiers embraced martyrdom in the attack and nine others sustained injuries.
The source further said that the Afghan National Army convoy was heading towards Badghis province when it came under attack.
In the meantime, General Zahir Azimi the spokesman of Afghanistan's Ministry of Defense confirms that seven soldiers have embraced martyrdom in past 24 hours.
However, General Azimi does not provide further details about the incidents in a tweet he posted this morning.