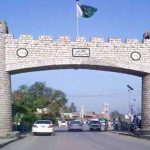 ASHGABAT: Prime Minister Shahid Khaqan Abbasi has expressed the confidence that TAPI gas pipeline project would provide shared prosperity, unite people, and provide socio-economic development and peace dividends in the region.
He was speaking at the ground breaking ceremony of the TAPI Gas Pipeline Project in Turkmenistan on Friday morning.
The Prime Minister said TAPI is critical for Pakistan's energy needs. It will provide ten percent of the country's total energy consumption today.
He said Pakistan has been able to overcome its challenges and is on the path of economic progress. It will achieve six percent growth this year and CPEC would provide most efficient connectivity to the region.
He said Gwadar Port will provide most efficient sea linkage for whole of Central Asia. He said connectivity under Belt and Road initiative will ensure great economic prosperity of the region.
The Prime Minister said Pakistan has added ten thousand megawatts of power in the last four year. By the end of 2019, Pakistan would be adding 2500 kilometres of six lane motorways to provide connectivity in the region.
He said Pakistan is economic destination second to none. It is a huge market for investors and provides peace, security and stability.
He described ground-breaking of TAPI project as a historic occasion, which recreates historical linkages that the region had.