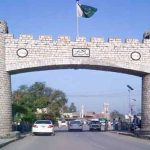 PESHAWAR: Caretaker Chief Minister Justice (R) Dost Muhammad Khan said that professional and technical education is the key area that can generate a lot of economic activity leading to rapid development and job creation in the province.
This province has a lot of potential that needed to be scientifically tapped and exploited for the benefit of the province and prosperity of its people.
He was presiding over a meeting on TEVTA at Chief Minister Secretariat Peshawar. Minister Industries Sanaullah, Secretary Industry and MD TEVTA also attended.
Air Commodore and principal advisor to CM on Technical Training and Evaluation gave a detailed presentation on the wide range of activities of the TEVTA and making functional the un-functional training centres throughout the province.
The presentation focused on different programs initiated by KP TEVTA for extended technical training in its different institutes for the skill development and technical education to the youth of the province.
The Chief Minister directed full utilization of underutilized training institutes in the province. This province would become the hub of trade and commercial activities in the wake of CPEC. The public sector institutions must be prepared to their enhanced role in the foreseeable future.
The Chief Minister directed for the transparent working of TEVTA. This institute has the capacity to convert the unskilled youth to a fully skilled and trained manpower. This province needed skilled manpower for its futuristic plan for expeditious development, he added.
Dost Muhammad Khan appreciated the PAF team for bringing efficiency to the working of KP TEVTA institutes and directed to continue the revamping of technical education that he added is the key component for industrial efficiency in the province.
He said we have to be ready to the increasing trade, commerce, industrialization and infrastructure development and other challenges brought by the CPEC. Regarding the spending, the Chief Minister directed that these spending should be legitimized at proper forum.