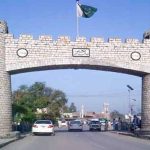 PESHWAR: Ruet-e-Hilal Committee's meeting for Ramazan moon sighting or walima, Khyber Pakhtunkhwa Auqaf Department has issued tender for food of over 200 people for moon sighting meeting in Peshawar.
According to the tender meals to be served at the meeting scheduled to be held on March 22 for Ramzan moon sighting.
The tender issued by Auqaf department invited different reputed firms asking for quotations for food for 100 VIPs guests. The menu includes Dumpukht, beef, Naranji rice with beef, Chiken Tikka Botti, Sekh Kabab, Halwa, Russian salad, cold drinks, Mineral Water, and green tea.
The tender also asked quotations for food of 100 general quests, who will be coming to see the moon, which include Rice with beef, chicken curry, mix vegetable, halwa, and cold drinks.
Black tea, one bite pastry, one bite patties, one bite sandwich and biscuits for reception tea of 200 people are also part of the tender issued by the Auqaf department of Khyber Pakhtunkhwa.
The meeting of the Rohit Hilal Committee will be held at the Auqaf office complex Charsadda road on March 22 for sighting Ramzan moon.
On the other hand, the caretaker minister for Auqaf and Religious Affairs Mian Feroz Kakakhel has taken notice of the tender. The department has cancelled the tender. Provincial Minister has said that action will be taken against those responsible for negligence.