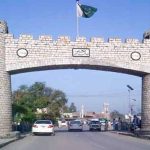 LANDI KOTAL: Federal Interior Minister Chaudhry Nisar Ali Khan on Wednesday claimed that all terror networks in the country, whether acting domestically or otherwise, had been dismantled following the successful operation Zarb-e-Azb.
Speaking to media, Chaudhry Nisar said that security situation in the country has improved. He said that terrorists are launching attacks on Pakistan from across the border. He said that the war against terrorism has not completed yet adding that the war would continue until complete elimination of terrorism from the country.
Nisar lauds the sacrifices of security forces and tribal people for restoration of peace in the country. He said that security forces and tribal people has rendered unscrupulous sacrifices in the war against terror for durable peace in the country.
Nisar said that the country was more secure today. No terrorist network is operating from Pakistani soil.
Nisar warned Afghanistan that its government must not get trapped in others deceptive plans. He reiterated that peace in Pakistan was not possible without peace in Afghanistan and so the Afghan government must not play someone else's game.
With repeated terror incidents in the country, Nisar said Pakistan's war against terrorism was not over yet.
"Still some terrorists are left, who have fled by crossing the borders," he said.
Lauding the services of former army chief General (retired) Raheel Sharif, Nisar remembered him as s front man who stood firm for the right causes.
Earlier today, the interior minister visited Headquarters of Frontier Corps (FC) at Bala Hisar and laid a wreath at Yadgar-e-shuhada (martyrs monument) and offered fateha for the eternal peace of the departed souls.
The FC authorities briefed Nisar about the role of FC in the ongoing operation Zarb-e-Azb and its Operational preparedness.