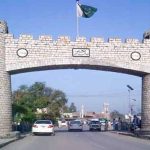 KARACHI: The curious case of Karachi airport attack is about to get solved as it has been reported that there was involvement of three terrorist outfits in the assault.
In addition, traces of a group of terrorists involved in various attacks have also been found and arrests being made in this regard as well.
The reports have confirmed that the responsibility of the Karachi airport attack has been claimed by Tehrik-e-Taliban while Lashkar-e-Jhangvi and Al-Qaeda assisted the assault.
The main character of the Karachi airport attack has been identified as Saeed aka Kaloo as he offered conveyance to the terrorists in the process of reaching the airport.
It is also pertinent to mention that 11 terrorists linked with the terrorist group were already apprehended in Jan 2016.
The arrested terrorist Saeed aka Kaloo has also revealed that the two most wanted terrorists i.e., Asim Capri and Ishaq Bobby were also linked to Lashkar-e-Jhangvi.