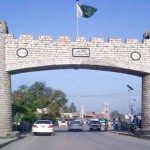 MURREE: Caretaker Information Minister Syed Ali Zafar says terrorists will not succeed in their designs to postpone elections in the country.
Addressing a ceremony of National Book Fair at Lawrence College Murree this afternoon (Saturday), he categorically stated that elections will be held on time.
The Minister said enemies of the country want derailment of democracy in the country through postponement of elections, but they are destined to fail.
He said Pakistan has almost physically won war on terror and now some desperate attempts are being made by terrorists. He said enemies from internal and external front are active against the country.
Syed Ali Zafar said the federal government, the provincial governments, intelligence agencies, and law enforcement agencies need to work in collaboration to defeat the enemies' designs against the country.
He said politicians need to run their election campaign under the given code of conduct.
Emphasizing on tolerance in the society, the Minister said extremism and terrorism can be eliminated by promoting tolerance and mental harmony.
Strongly condemning recent terrorist attacks in Peshawar, Bannu and Mastung, the Information Minister said the entire country is in mourning mode.
One-minute silence was observed at the occasion to pay tribute to the martyrs of these terrorist incidents.