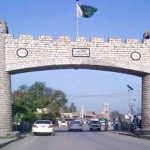 ISLAMABAD: The federal government has decided to complete the appointment process of the National Accountability Bureau (NAB) chairman within two weeks, citing sources.
The federal government decided to adopt all constitutional and legal options for the appointment of the NAB chairman.
The decisions were taken in a consultative session chaired by the premier today. The session was attended by Farogh Naseem, Shah Mahmood Qureshi, Pervez Khattak, Shafqat Mahmood, Fawad Chaudhry, Senator Barrister Ali Zafar, attorney general and others.
The Minister for Law and Justice Farogh Naseem presented the constitutional and legal options before PM Imran Khan and federal ministers regarding the new appointment on the NAB's top position and to retain the current chairman.
It emerged that PM Imran Khan has partially agreed to consult the opposition leader regarding the names for the position of NAB chairman.
The majority of the session's participants have suggested the premier hold consultations with the opposition leader regarding the names of the NAB chairman.
PM Imran Khan issued directives to finalise non-controversial amendments in NAB laws that will increase the reputation of the accountability process.
Sources said that a session will be held on Tuesday next week regarding the appointment of the NAB chairman. The law minister and attorney general have been directed to finalise the amendments in NAB laws.