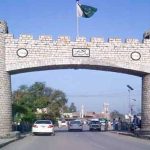 CHARSADDA: Police have killed three suicide bombers as the terrorists attacked local courts in Tangi tehsil of Charsadda district here on Tuesday.
According to DPO Charsadda Sohail Khalid, three suicide bombers were killed by police as they attacked local courts.
DPO Sohail Khalid also confirmed that the three suicide bombers had tried to enter inside Tehsil Kacheri. He stated that rescue work was being carried out in the area.
Thirteen injured persons have been moved to Tehsil Tangi Hospital.
According to details, gunfire was heard after a bomb blast took place near the gate of a sessions court in Charsadda located at Tangi Bazaar. As per reports, several terrorists entered inside the court as multiple people were feared injured.
Police surrounded the area and began conducting an operation against militants. Hospitals in Peshawar and Charsadda have been alerted regarding the situation. Doctors and staff at the Lady Reading Hospital in Peshawar have also been alerted regarding the situation.
PTI member Shaukat Yousufzai said that as per the information that he had received, the militants had come from Mohmand Agency. He claimed that lives had been lost in the terrorist attack. "Security institutions are alert in Khyber Pakhtunkhwa," said Shaukat Yousufzai.
According to Deputy Commissioner Tahir Zaffar, an explosion took place at the main gate as terrorists failed to enter the court premises due to strict security.
Lawyers in large number were present inside the bar room at the time of the blast. Eyewitnesses say that some lawyers scaled walls to escape.
Security forces and rescue teams have arrived at the scene.
Khyber Pakhtunkhwa Health Minister Shahram Tarkai said that emergency has been declared at all the hospitals in Charsadda and Peshawar.
Charsadda District Nazim confirmed that two terrorists have been killed.