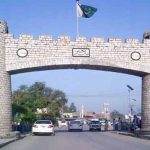 KALASH: Beneath the snow-capped peaks of Chitral, men and women in exquisitely embroidered clothing dance in the lush green valleys of Kalash as the famous three-day festival of Chilum Joshi begin on Sunday.
The purpose of the Chilum Joshi festival is to celebrate the arrival of spring which is at its peak in all the three valleys; Bumburet, Rumbur, and Birir.
On the first day of the festival, people of the valley decorate their houses with flowers. The second day involves the distribution of milk among friends and loved ones. It also includes baptism of infants with milk.
People also pray for the safety and security of their fields and animals. Along with this, the colourful customs, and the unique events and ways of worship of the Kalash people come into play.
The people of Kalash are famous for their love of singing and dancing. And this festival provides them with a chance to engage in their favourite activities. Men and women of all ages dance in circles to folk tunes and traditional drum beats.
The singing and dancing is not just a way to express their joy, but is also aimed at expressing affection towards each other. During the dance, men throw flowers at the women to convey their love and affection for them. The processions move through the streets and eventually congregate in Charso, the common dancing place in the valley.
The festival is quite popular among people from other areas of Pakistan who visit Kalash to view the celebrations. This time too, a large number of people from across the country and foreigners have reached Kalash to witness the festival due to which hotels are fully booked.
Moreover, strict security arrangements have been made to prevent any untoward incident during the festival. Such security measures are a need of the area as the religion of Kalash is unique and includes practices that are vastly different from Islamic practices. These practices are polytheistic in nature, and the community has faced hostility from extremist groups since the past few years due to this.
Even though the population of the Kalash community is dwindling due to conversions to Islam, the people continue their practices with zeal and fervor. Despite the threats they are facing, the community continues to celebrate its festivals involving rituals that are an integral part of their faith and be thankful for the abundant resources of the valleys.
Other festivals include Mrach Waki Zhoshi in May, Ragnat in July, Uchao in August and Chamos in December.