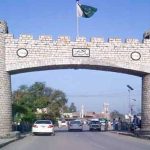 PESHAWAR – At least four people including three soldiers were martyred in a blast near army checkpost in an area of North Waziristan, Khyber Pakhtunkhwa.
The deputy commission of the tribal district confirmed the development, stating that it was suicide blast that occurred during checking.
He said bodies and injured had been shifted to Miranshah hospital while security forces have cordoned off the area to collect the evidence.
It is pertinent to mention here that North Waziristan is a former stronghold of the militant Pakistani Taliban group, also known as Tehreek-e-Taliban Pakistan or TTP.