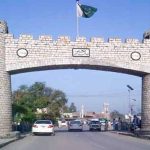 QUETTA: Three terrorists were killed during an encounter with police in Kala Qambrani area of Quetta here on Friday.
According to details, policemen were carrying out snap-checking at Kalai Qambrani area of the city. Three suspects traveling on a motorbike while seeing the police checking, tried to escape from the scene, police sources said.
The suspects opened fire at the police when they were signaled to stop.
An exchange of fire took place between the police and gunmen, resulting in the death of all three attackers, officials said.
Police recovered a Kalashnikov and two pistols from the deceased armed men.