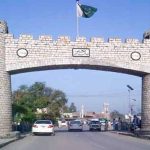 PESHAWAR: In a move to counter the sedition case against Imran Khan and Shahbaz Gill, the government of Khyber Pakhtunkhwa (KP) has has decided to file sedition cases against the leaders of Pakistan Democratic Movement (PDM) under the Code of Criminal Procedure (CrPC) for delivering anti-army speeches in the past.
The sedition cases would be registered against Nawaz Sharif, Maulana Fazlur Rehman, Asif Zardari, Rana Sanaullah, Khawaja Asif and Capt (retd) Safdar, under Sections 108A, 353A and 505 of the CrPC, for making hateful, abusive and provocative statements against army and judiciary on various occasions in the past.
"The cases are being registered on the basis of hateful and provocative statements made against the army, judiciary and other state institutions in the past," the CM's adviser Barrister Saif's confirmed the provincial government decision.
The KP decision comers after the PTI chief Imran Khan booked in a terrorism case over his controversial remarks about the female judge Zeba Chaudhry, additional sessions judge of the federal capital, and a sedition case against his chief of staff, Shahbaz Gill, for his statements about the army during an ARY News bulletin.
Barrister Saif said that the cases would be registered under Section 196 (prosecution for offences against the state) of the Code of Criminal Procedure (CrPC) and Sections 153-A (promoting enmity between different groups), 108-A (abetment in Pakistan of offences outside it) and 505 (statements conducive to public mischief) of the Pakistan Penal Code.
In this regard, Additional Assistant Commissioner Dera Ismail Khan Munir Ahmed has been authorized under Section 196 of the CrPc to get sedition cases registered in Dera Ismail Khan on the complaint of PTI leader Ali Amin Gandapur.
The sources in the office of the Dera Ismail Khan district police officer (DPO) have confirmed the receipt of the applications and a letter of the assistant commissioner for a legal action.