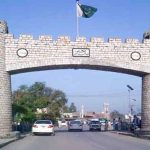 Tehreek-e-Labbaik (TLP) Pakistan chief Saad Rizvi was reported to have been released on Thursday from the Kot Lakhpat jail, the party spokesperson stated.
As per videos and pictures shared, the TLP chief reached mosque Rehmatul-il-Aalimeen in Lahore shortly after his release. A large number of supporters had gathered outside the party headquarters to welcome Rizvi.
The TLP chief had been under detention since April 11. His release is said to be a part of the recent agreement reached between the government and the TLP following the party's recent sit-in.
On October 31, the government announced that an agreement had been reached with the Tehreek-e-Labbaik Pakistan (TLP) after the latest round of dialogue between the two parties.
The pact came after around two weeks of clashes left at least seven policemen dead and scores injured on both sides.
The announcement was made at a news conference in Islamabad where Foreign Minister Shah Mahmood Qureshi, National Assembly Speaker Asad Qaiser, Minister of State for Parliamentary Affairs Ali Mohammad Khan, prominent cleric Mufti Muneebur Rehman as well as TLP members Mufti Ghulam Abbas Faizi and Mufti Mohammad Ameer were present.