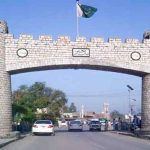 Torghar: At least 14 people lost their lives as rains and lightning struck Torghar district of Hazara division on Sunday.
Several homes were demolished following torrential rains in the district. Police said their personnel and locals were busy in rescue efforts, saying three children have been taken out alive from under the rubble of the destroyed homes.
Several roads have been washed away due to the flooding caused by the rain, hampering relief efforts. Meanwhile, Khyber-Pakhtunkhwa Chief Minister Mahmood Khan has directed the rescue departments and officials of the district administration to reach the affected site at their earliest and begin relief efforts.
Khan expressed sympathy with the affected families and condoled the deaths of their love ones. He told the families that the provincial government shared their grief.