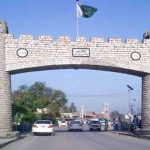 ISLAMABAD: Chairman Imran Khan has announced legal action against the chief election commissioner (CEC) Sikandar Sultan Raja in Toshakhana case in which the ECP disqualied the former prime minister.
Addressing to party workers in Kamoke at the fourth day of PTI long march, Imran Khan said that he will file an Rs10 billion defamation case against the Sikandar Sultan Raja, accusing him of servant of the Sharif family.
On October 21, the Election Commission of Pakistan (ECP) disqualified Khan from running for political office, declaring he misled officials about foreign gifts he received while in power.
The case centres on a government department known as Toshakhana, which during the Mughal era referred to the "treasure houses" kept by the subcontinent's princely rulers to store and display gifts lavished on them.
Government officials must declare all gifts, but are allowed to keep those below a certain value.
More expensive items must go to Toshakhana, but in some cases, the recipient can buy them back at around 50 percent of their value — a discount Khan raised from 20 percent while in office.
Addressing the participants of his protest march as it entered the fourth day, Khan announced he will send an Rs10 billion defamation notice to Raja for nominating him in the reference and questioning his honesty.
"Sikandar Sultan! I will get the money for the damages from you," Khan thundered, announcing to donate the sum to Shaukat Khanum Memorial Cancer Hospital.
"I will pay the damages that I win to the [Shaukat Khanum] hospital. Sikander Sultan! you cast a doubt on my integrity," Khan further added.
On the fourth day of the protest, the participants were expected to arrive in Gujranwala, announced Fawad Chaudhry, senior vice president of the Pakistan Tehreek-i-Insaf (PTI) party.