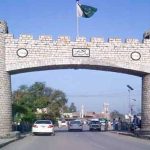 KARACHI: The Karachi-based traders on Sunday withdrew their call for a three-day shutter down strike after meeting with Sindh Governor Imran Ismail.
According to the details, the negotiations between the Karachi Tajir Action Committee (KTAC) and the Sindh governor has become successful as they decided to take back the strike call after Imran Ismail assured the traders that their grievance would be addressed.
Imran Ismail also assured the traders that he would arrange a meeting between the traders and Prime Minister Imran Khan during this weekend.
Speaking to the journalists, the Singh governor assured that no action would be taken against the traders during one month. He also thanked the traders for taking back the strike call.
The business community presented their proposal in connection with tax collection and revenue generation during the meeting.
On the occasion, KTAC leader Jameel Paracha mentioned that they will strike on Saturday if their demands not accomplished.
Earlier today, Anjuman Tajiran Pakistan has announced to observe countrywide shutter down on July 13 to protest the federal budget 2019 for what it says the anti-business.
Central president of the leading traders group, Kashif Chouhdary, says their body has rejected the IMF-dominated budget that is anti-traders.
"We will not let this budget implemented on small traders who are already struggling with rising input cost and dwindling profits," he said.
Kashif advised the PTI government to realize the gravity of the situation and withdraw the budget announcements that will push the small traders to the wall.