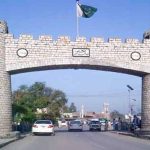 TANK: The tribal elders of Frontier Region (FR) Tank have decided to take up the issue of reconstruction of Jandola Bazaar with the government which was destroyed in Operation Raah-e-Nijat.
The elders and youth of Kata Gram, Turan Khel and Mandaan tribes held a jirga in Jandola on Sunday to discuss the options for reconstruction of the bazaar.
Addressing the jirga, tribal elders said that the government has reconstructed markets and bazaars in South Waiziristan Agency (SWA) which were destroyed in military operation against militants in 2008-09. However, the government has neglected Jandola Bazaar of FR Tank which consisted of 400 shops, the elders said. They added that tribal elders had also constituted a 30-member committee to discuss the issue with government officials in near future.
A participant of the jirga Abdullah Nangyal, "Neither the government compensated displaced persons nor it paid heed to the reconstruction of the bazaar. A number of government officials including the governor came to the area. They hold talks with Mehsud tribes and others and compensate them but none of the officials have asked about us. We request to the government to rehabilitate the bazaar as soon as possible because we have suffered a lot since the closure of the bazaar".