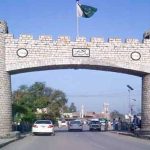 PESHAWAR: A three-party opposition alliance in Khyber Pakhtunkhwa Sunday decided that it would not attend the all parties conference (APC) called by the PTI-led government over rigging claims in local government (LG) elections.
The opposition alliance comprising of Pakistan People's Party (PPP), Awami National Party (ANP) and Jamiat Ulema-e-Islam-Fazl (JUI-F) held consultations over the APC.
It termed the calling of APC by the government as an act based on "ill-intentions".
ANP leader Mian Iftikhar said that if the government was sincere to address the issues pertaining to LG elections it would have call the APC soon after the polls.
Earlier, the PTI government announced that it would convene APC on June 9 to discuss issues related to LG polls.
The opposition parties accused the ruling PTI of carrying out rigging in the recent LG elections in Khyber Pakhtunkhwa.