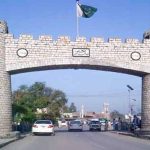 ISLAMABAD: Prime Minister (PM) Shahid Khaqan Abbasi has said that the US president Donald Trump should retract his tweet about Pakistan and tender an apology.
The PM expressed these views at a talks show program at a private TV channel in Islamabad.
About the repatriation of Afghan refugees, the prime minister said Pakistan had hosted three million refugees and bore the brunt of the Afghan issue.
The Prime Minister said that fencing of Pak-Afghan border would continue.
He said war is no solution to Afghan issue and the issue can be resolved through dialogue and Afghan owned and Afghan led process.
To a question, the prime minister said Pakistan Tehreek-e-Insaf Chairman Imran Khan should tender an apology for his derogatory remarks about the Parliament.
PM said the democratic system is prevailing in Pakistan and all institutions have their specific roles and rights.
About Zainab's murder case in Kasur, he expressed satisfaction over the Punjab government's progress to investigate the case.