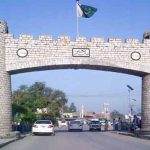 TANK: Banned militants group, Tehrik-e-Taliban Pakistan (TTP) has released a video of kidnapped government officials including assistant commissioner FBR Riaz Khan, who requested the government to measures for their safe release.
Government officials Tehsildar Ladah Gul Daraz was kidnapped was kidnapped from Koti in March, while Assistant commissioner FBR Riaz Khan was kidnapped from Gomal area in April this year.
The TTP released the video of government officials on Tuesday. They appealed to the government help their safe release.
According local police the kidnappers abducted the FBR Assistant Commissioner Riaz Khan and four others on gunpoint. The kidnappers wearing military uniforms entered the hujra (male guest house) of Riaz Khan and kidnapped him. He was in the village due to the death of his mother.
Three close relatives of Riaz Khan, including Mumtaz, Mudasir and Saddam were also kidnapped by the armed men.